So last thursday I dropped my first full song from The Great Routine called "Coon" and along side a bunch of other blogs The HUFFINGTON POST picked it up. Man, am I jazzed. This is a song that I wrestled with for YEARS whether or not to release it and if I should change it's name but it brought me here and I am happy I did. Super glad that it's being so well received: 
Click to read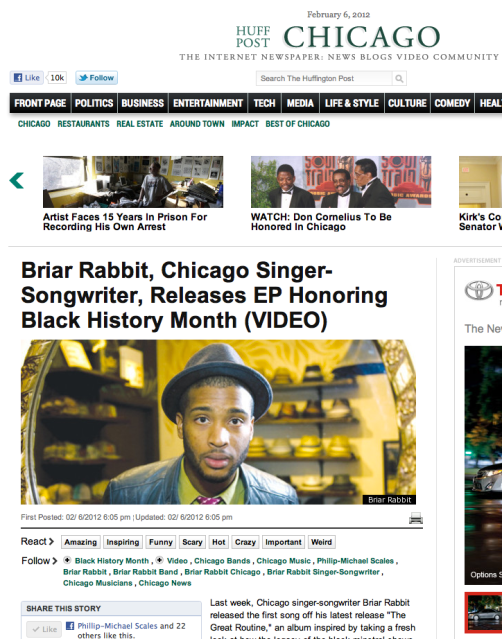 Here are the lyrics:
COON  
Hello, How do you do? 
I am the coon (That's what they tell me) 
Still a boy, twenty-two years old 
So feel free to scold when I don't do what you want me to 
What'll it be? 
I'm here for your use 
Just ask the Coon 

I dreamed of the stage as a kid 
Though it isn't as bright as it was on my eyelids 
I'm convinced there's no job as fine 
as delivering lines and hearing folks laugh at em every time 
So I'll take the bright lights 
You keep the truth 
I'll be the Coon 

I will sing and dance for you 
I'm the Coon 

Could I dance without strings? 
And still make you laugh? 
And smile when I sing? 
Never seen the puppeteer's eyes 
But they're supposed to be kind 
and this life's so easy on the mind 
My people tell me I'm turning the screw 
They don't understand 
The world loves a Coon 

No, I'm not sposed to think but I suppose if I did 
I might find this all a bit cruel 
In a country of dreams, a man can't be a king 
Without somebody being his fool 
But I'm just foolin with you 
I'm just the Coon
(C) briar rabbit 2012
LISTEN HERE!
DOWNLOAD for FREE HERE!